Just who are we anyway!
Here for your enjoyment of course!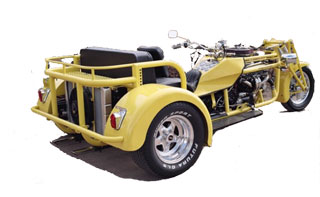 About SuperTrike
The SuperTrike™ V8 powered custom trike is a product of Images 'N Iron, a custom metal fabrication company with a long history in custom motorcycle fabrication. We are based out of Las Cruces, New Mexico in the heart of the old Mesilla Valley of Southern New Mexico.
We strive to provide our customers with the best high performance custom three wheel V-8 powered touring motorcycle driving experience they will ever have at an affordable price. SuperTrike's classic design and race car chassis technology, the result of over thirty years and thousands of miles of experience in both bikes, trikes and race cars, quality and price will be the leader in the V-8 touring trike market. Customer satisfaction with our SuperTrike™ is top priority.
SuperTrike™ V-8 powered custom choppers are built with manufacturing excellence as a goal. This manufacturing philosophy combined with our design commitment to offer the best product possible makes our SuperTrike™ the cutting edge in V-8 powered three wheel touring motorcycles. We are totally committed to maintain this cutting edge as new technology, materials and methods become available.